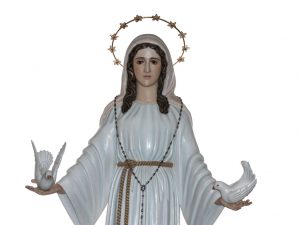 YEAR 2021
Messages of each month from this year.

---
WARNING : The messages are textually copied from the manuscripts of Brother Fernando Pires. Good discernment.
---
Message from the 3rd of January 2021
(From St Michael the Archangel)
My brothers and sisters, I Archangel Michael, I am here once again to leave a message from Our Heavenly Mother. Before reading the message, I wanted to tell you brothers to Love, love, love very much the Lord Jesus Christ and His Mother Mary most Holy! Let us love with a sincere fraternal love!… Therefore, with our hearts united and so connected, it will be a certain salvation for us in the time of hard trial.
My brothers and sisters, convert, repent of your sins! … Jesus loves you so much, that it is enough that He sees only a drop of love for Him, and He already forgives an infinity of sins and ingratitude's.
My brothers, Love the Lord and His Mother!… Love yourselves with sincere brotherly love!… Thus, your hearts united and so connected, will be a sure salvation for yourselves in the time of the hard trial.
My brothers, accept the urgent invitation to conversion! … Our Lord Jesus Christ and Our Mother in Heaven, do not want to lose you, therefore brothers, return to God as urgently as possible, through Me, your brother Archangel Michael. I bless you in the Name of the Father, the Son and the Holy Spirit.
Ámen
Miguel.
Message from Our Heavenly Mother
My dear little children, another year has begun. Pray, pray, pray a lot so that this new year will be full of grace and peace from God.
Children, it is in this time that we are in a decisive battle of this epidemic that has doubled for many nations, in the time of the chalice of pain.
My children, I do not see My children asking through prayer the cure of this epidemic, neither My predilected children, the Priests at Holy Mass. Ask My children for the cure of this epidemic and the diseases, because while you are here on earth, you need to ask God for what you need. It is in this present moment that you need God so much, as to have a life of peace, joy and healing, and that your hearts will not lack the greatest blessing which is God. It is at this precise time that the Name of Jesus Christ may be invoked, to manifest repeatedly in these difficult times of your century, voted to witness great painful events.
From this year, men will see even stronger natural punishments and changes in many nations. Portugal will be the country that will suffer the least, but days of pain and suffering will come for many Portuguese.
My dear little children, begin this new year by My side, because the most difficult, most painful moments are coming for you. They are closer than you think. For only then will you be safe and protected by My side.
Today I reveal all this to you so that everyone be prepared. My children, to avoid these punishments, do penance and prayer, this is, the Cross and My Holy Rosary.
My children, many challenges are here on earth, but worse ones may come. Man needs to reflect a little more on all that is happening.
This new year is an alert. It is an alert, My children, because humanity is not well. Humanity is very sick. It is a disease that is not just in matter, it is the disease of the soul, of the heart – emptiness, greed, and laziness.
That is why My children, that God puts us on a prayer mission. It is our defence! It is the defence of life! It is the defence of the innocent, the most vulnerable, those who alone cannot defend themselves.
I, Mary, the Mother of Goodness, have a mission. You also have a mission. We all have a single mission together. Heaven has the love to give us this mission. It is a mission of life, a mission of strength.
Imagine My children, if today Heaven took away from you this mission of being a pilgrim, of being a faithful instrument, of using your wisdom. My children, know that your intelligence is God in you. Because God the Holy Spirit works in you, His grace is the grace of God in you.
Therefore My children, you need not to be afraid. Face the difficulties, face the trials. If you are facing a big challenge, don't be afraid. If you have a problem, entrust that problem to the Heart of Jesus. Always ask for protection from God. Children, know that God does not abandon anyone! I know how much Heaven loves you! I walk with Heaven in order to bring God's love to you children.
So children, fight for that love. The greatest blessing of your life is to be in the grace of that love of God. Everything will be entrusted to you in abundance.
My dear children, I repeat once again, pray a lot for your Pope Francis, he is being conspired within the Vatican by an evil sect. This sect exists among the sacred servants within the Vatican, who are powerless against this evil group, which has infiltrated the Catholic Church for centuries. They are responsible for the distortion of the truth of the teachings of My Son Jesus Christ, they have tampered the true doctrine of the Catholic Church. So much confusion has been spread by this sect of the wicked, but occult , that My children have strayed from the true Church. That sect, My children, plan to replace your Pope Francis with a dictator of lies, they want to create a new church in alliance with the Antichrist and their group, in order to deceive the world.
Great divisions will emerge within the ranks of cardinals, archbishops, bishops and priests. One side against the other. The true disciples will have to hide and preach in private or they will be killed.
The true Church will be hidden, for the true faithful who will have to come together in order to practice their fidelity to My Eternal Father.
These occult organizations, My children, with power in the Masonic governments, have a plan to destroy the faith and to make all the principalities of religious disappear, to give way to materialism , atheism and spiritism.
When that happens My dear little children, the yoke of the Lord Jesus Christ, terrible punishments will follow: a bloodbath, desecration and closure of the churches, martyrdom of the faithful, finally, widespread apostasy.
My children, you need to wake up! It is not by the fact that you are in your own homes, recollected, that you should be divided and individualistic. On the contrary, you must be more united and stronger! Jesus said: as much great is the fight, the greater the army must be. So children, you have to be united! Because the enemy sets a perfect trap for man to fall into.
Children, pay attention: the devil does not set any trap! In this time of plague, of suffering, you have to be very careful not to fall into the devil's trap. Because he is there! He is a liar and that you already know, he uses all devices to deceive the children of the Light. Nothing he says or acts is true! He is everywhere, especially in the lives of families, of our young people and our children.
Before I finish My dear children, take My messages, listen to them , read them all again, especially the one from the 2nd of January 2011 . (_see year 2011_)
Continue to pray for your nation and for the whole world, for the priests and for your Pope Francis. I love you all , dear children. Give Me some of your love too. I, the Mother of Jesus Christ, Mary, Mother of Goodness, give My Blessing and I do it in the name of God the Father, Son and Divine Holy Spirit. May They bless you and keep you. Amen
Mary, Mother of Goodness
(Publication reviewed by Brother Fernando Pires)
INFORMATION : Next February, the 16th , the day of the anniversary of the first apparition, coincides as in 1999, with the day of Carnival.
(Go to the "HISTORY" page  )
---
Prayer month of January (03-01-2021)
Holy Mother of God, Immaculate Conception, full of grace,
be our salvation in this danger of misfortune.
Being the Mother of the humanized God, who expired for us on the cross,
what will you ask, O Lady,  that the good Jesus denies You?
Heavenly advocate, of this poor humanity,
forgiveness, Our Lady, grant to us from the Divine Majesty.
Dispel this cruel epidemic, Mighty Intercessor,
like You crushed the head, of the deceiving serpent.
the nature, Our Lady, obeys your Son,
and your Son who rules it, does not resist to your prayer.
So it be
Amen
(Publication reviewed by Brother Fernando Pires)
---
---
7th of FEBRUARY 2021
Brothers and sisters from our homeland and from all over the world, faithful pilgrims of Our Lady Mother of Goodness, at the request of Brother Fernando Pires(visionary), we inform you that last Sunday, the 7th of February, in his chapel, in his home, the three Archangels, Michael, Gabriel and Rafael, revealed that in this month of February, our Heavenly Mother, Mother of Goodness, will only reveal Her message on the 16th of February, the day of the celebration of the anniversary of the first apparition at the site Corgo da Igreja, in São Marcos Serra.
As our Heavenly Mother recommended, "This month, My children, being unable to leave your homes and following the rules and the governmental orders of your country, make again your houses the Churches " .
Therefore, we must comply with the rules of the health authorities in our health areas, as requested by our Heavenly Mother. (We cannot go to the place of the apparition).
Let us all remain united in prayer and united with the Hearts of Jesus, Mary and St. Joseph.
---
---
Message from  16th of February 2021
(22nd anniversary feast of the Apparitions)
(3rd Anniversary of the Eucharistic Miracle)
 (Message from the Archangels)
My brothers and sisters, we Archangels, Michael, Gabriel and Raphael, we are here in this little chapel from our brother Fernando(visionary) to once again leave a message from Our Mother of Goodness.
We are here today, to tell you the truth about this epidemic.
Brothers, this virus is not the work of laboratories or satan, but they took advantage of a part of it, but it wasn't them who created it.
My brothers, think well about it, men have been destroying their own bases for a long time. Yes, they have people incarnated on the planet who act exactly as they want. So brothers, everything is based on that. You reap what you sow. What has man been doing over the time? Man deforested, invaded, set the forests on fire, changed the animals' habitat, altered the normal cycle of balance that existed throughout the planet. So many diseases that you have today were diseases exclusive to the balance of the forest. My brothers, everything exists in balance. Diseases that are transmitted by insects and animals are the consequences of what? The extermination of many birds, of many terrestrial animals that ate insects. Then the imbalance of these species of insects advanced into cities and villages. And then brothers, everything starts to appear, new diseases that nobody knew about, causing mortality, causing panic. This is also where the laboratories and satan enter: spread panic through his media. This creates what brothers? It creates panic, and fear. Today brothers, you cannot deny it, it is a consequence of man own actions. Man has imbalanced the planet earth, therefore is suffering the result of this imbalance. Well, my brothers and sisters, the warning is given as how this epidemic and others arose among you. We are not denying that there is no epidemic, it exists, you created and attracted it. So now act correctly, at least that, so that everyone can be saved, through the Mercy of God and our Heavenly Mother! We the Archangels, Michael, Gabriel and Rafael, are ready to help you. It is enough that you ask Us with confidence and from the heart in your prayers. We bless you in the Name of the Father, the Son and the Holy Spirit. Amen
Michael, Gabriel, Raphael
Message from Our Heavenly Mother
My dear little children, today, on the day of My apparition, you cannot go to My Sanctuary, Corgo da Igreija, to thank God for the twenty-two years of My coming to that Sacred Place. I still thank you when I see you praying My Holy Rosary in your homes, I already feel honoured with the affection of My children. My children, this year will be a time of many battles, because it is a time of God's justice on earth. We will be surrounded by the protection of the Heart of Saint Joseph, which will help us and help each heart in times of suffering.
My children, in this new year Saint Joseph will be the Father of Families, the protector of all families worldwide. I want all of you to be able to join Him with strength, devotion and humility.
My children, through prayer, Jesus Christ can put an end to many things that have happened in this world, expressly referring to this epidemic.
Humanity cannot divide itself! Humanity needs to come together, especially in prayer. God's people are very divided! Each one alone wants to show the essence of something which needs unity to have essence.
Children, it is time to acknowledge mistakes … It is time to unite with God. The dark hand of evil is closing over humanity, strongly attacking humanity, to change its mentality and disturb it, to lead it to uncontrolled fear, offer them security and promise stability and, thus control them as they control populations in the cities and villages. They have everything prepared to take you into panic, don't let them lead you into this trap. Keep in mind My children, it is not the end of the world. It is of utmost importance, children, that each one looks inside of oneself and reveal the true human ego with whom they walk.
It is not the time to live in uncertainty or discomfort, nor in envy, pride, ambiguity, these low passions will make you grow into the evil that the devil sends to men to fall into his traps and forget that they have been redeemed by My Son Jesus and are not subject to evil, but to good.
My children, continue without fear of this epidemic, do not be a victim of fear, be aware of Divine Love, so that you do not lose your faith and remain in Hope and in Divine Mercy. The cure that the world needs most, goes beyond this virus that today leads the world to flee, to retreat into your homes. It is a virus much bigger than this one: Sin! Only the Holy Spirit can lead us to the light to overcome this epidemic, it is not these vaccines that will cure you. Now, it depends on you little children! The grace is there. Value it! Believe! Have faith! The grace is there, God is illuminating the world with mercy, piety, strength. God is giving all graces. Now, they are in your hands, children! I hope, as Mother of God and your Mother, that you know how to overcome this moment, the path, even if it is narrow, full of thorns, of battle, do not be afraid and do not let yourself be carried away by fear. That is why My children, Jesus asks us to open wide our eyes to the signs of God. It is the moment when you have to be more intimate with God. Do not fear the famine that is coming across the earth or the fall of the global economy. The only righteous one, you will see, is the Eternal Father, and He does not abandon His people. My dear little children, I will repeat you once more, I invite you to read My old messages, and be attentive to the signs that predict you the great things that will happen very soon. Humanity has not put into practice the messages that I, the Mother of Goodness have been bringing over these twenty-two years. If I speak to you and exhort you, it is for your good. My children, listen to Me while there is time. You are living decisive days and those who have eyes to see and those who have ears to hear. Pray that, in the time of greatest persecution, you may be preserved and remain standing waiting for Christ, who very soon will come to judge and end definitively with the time of trial.
Stay alert! My children, resist, don't be caught by surprise, be aware that you are the children of My Son Jesus Christ, remain in a state of grace, all for Christ, nothing for satan, be willing to live for My Son Jesus, in that way they will not succeed in transforming you.
Not everything that happens has logic for man, the Divine plans are not in human logic. What is to be accomplished is accomplished, not when man says it, but when it is decreed by Heaven.
My dear children, behold everything is being fulfilled, the charity of God Our Lord is for his people. He will soon manifest Himself in His Greatness to take with Him all the children, all those who with Love, Truth and Fidelity have followed, served, worshiped and loved Him.
Open well wide your eyes My children, see what happens worldwide!
The chip is not a fantasy…
My children, I do not speak to you as I spoke in the past, I speak to a generation that made great discoveries, but did not discover who they serve when they agitate against the Law of God. The punishments are at the door. The orders of God, all will be carried out.
My children, one of the things that Jesus said: You are getting ever more closer to My justice! In fact, the Word of God speaks to us of the great wrath of God. God's wrath is God's justice. He also said: walk, but walk with love in your heart. He asked us to be messengers of love, and that our network was precisely love, to fish for souls who are lost in the midst of so much darkness. My children, what is the darkness? Sometimes, man confuses darkness with the darkness of night. Darkness is pride, selfishness, envy, jealousy, lying, laziness and all that leads to sin.
My dear children, Jesus Christ left arks of salvation, they are My Sanctuaries on earth, the sites of My Apparitions.
I ask you children to pray, keep discouragement at bay with prayer, be happy and joyful! Have strength, courage, seek God at all times.
We need to cheer up our young people. We need to overcome discouragement and depression and give our heart away: Open it to God! Depression can be cured when we work for others. We need exorcism. We are often victims of traumas that arise from difficult gestations. The sin of Adam and Eve accompany us until today. Everyone needs exorcism. Let's ask Jesus to exorcise us, because He is the great exorcist.
These twenty-two years of My mission as Mother of Goodness – Immaculate Mother, Mary of Nazareth, are to show you children that without God you cannot overcome. It does not exist in any moment in life other solution when the need is called conversion. There is no other solution when suffering is a problem caused by sin, but there is the Saviour, which is Jesus Christ. Today I want to ask the Holy Trinity, only this grace for the world, because I know that you are not prepared to go through what you will go through. I know you will need a lot of goodness and mercy from the Father, the Son and the Holy Spirit. But each one makes his own request to Heaven. You children, can change many things, including solving this pain that the world today feels from this virus.
Jesus can do a miracle, yes children! Just accept the cross, believe in the mercy and be sure that the miracle can be operated in your life in many ways.
My children, as I finish this message, I ask you not to listen to the news that are showing on your televisions, you will be more frighten. The more the fear they emanate in you, look, the more the virus spreads. Think My children, that this virus is a simple flu, that if you caught it on a daily basis you would run the same risk. So don't be afraid, I repeat again, have confidence in the Mercy of Jesus Christ.
Pray, pray, pray a lot My children, with your sincere and perfect prayer, I give you the certainty that everything will be fulfilled soon, according to God's plans.
Stay all with the peace of God. I say goodbye to all of you, with the Love of a Mother who in these twenty-two years has been heard, followed and glorified by you.
I bless you in the Name of the Father, the Son and the Holy Spirit. Amen
Mary, Mother of Goodness
(Publication reviewed by Brother Fernando Pires)
---
 Prayer month of February (16-02-2021)
Lord Jesus Christ, Doctor of doctors, who healed the sick with love, and never failed to welcome everyone, come to our aid, in this moment when fear imprisons us.
Free us from the evil of the epidemic, which is advancing on our Portugal and the whole world.
We believe Lord, that everything can be changed by the strength of our prayer.
Look after all those children who are infected with the virus.
Welcome unto You the souls of so many victims of this virus from around the world.
Grant us the wisdom to follow the necessary guidelines at this time when we walk side by side with the fear of contagion.
Give us your hand and grant us peace in the face of this storm that robs us of serenity.
We trust in You, and in Your Sacred Heart we take refuge in this moment when the world cries out for Your infinite mercy.
So be it
Amen
---
---
Message from the 7th of March 2021
(Message from the Archangels)
My brothers and sisters, we Archangels Michael, Gabriel and Raphael, are here again in this so beautiful chapel of our brother(the visionary), to leave the message for this month of March from Our Mother of Goodness.
We are very sad, because many brothers and sisters disagreed with our last message we gave in February, regarding this epidemic, where We said that the virus was not the work of laboratories or from satan, but of men, but that they took advantage of a part of it. Because we also know, brothers, that there will be certain epidemics, diseases that can reduce the world population and are created in laboratories.
In our message, we do not speak about world air pollution, it is also the work of men, which is killing many brothers, economically disadvantaged, especially in developing nations that have been lagging behind in adopting measures to combat air pollution. Air pollution brothers is very harmful to human health and the environment, it has been increasing more and more, and causing more and more deaths.
My brothers, you are exposed to many heavy metals and various chemicals, highly toxic, daily, which are in the air, in the water, in the food, in the seas and in the soil, and who ignore that fact.
In fact, brothers and sisters, many different countries must either reduce air pollution as soon as possible, or else they are at great risk of not being able to breathe clean air. To end, my brothers, We the Archangels, We are the speakers of the Lord and not of satan, never again disagree with our messages. Therefore, brothers, people of God, listen to this recommendation, engrave it in your hearts and you will find Peace.
We protect you and We must guide you to the Immaculate Heart of Mary. Come to us, and We will help you.
Remain, with the Blessing of the Father, the Son and the Divine Holy Spirit. Amen
The Archangels
Miguel
Gabriel
Rafael
Message from Our Heavenly Mother
My dear little children, I welcome you with My Heart and I know that Jesus welcomes you too. On this day, a very special day of prayer, time of holiness which is the season of Lent. Lent is a time of reflection, prayer and silence.
There is a lot of pain! The world needs a lot of prayer. How to change all this, My children? Praying and pleading for mercy to the Heart of the Merciful Jesus.
You little children are in a time of grace, the time of Lent, which is a time of welcoming and reflection. But it is also a difficult time, of persecution, tribulations and divisions.
My children, look to Jesus in this very special time, in vigil, in prayer, in this time of fasting, of silence, of peace!
It is sad to see so many innocents, so many young people, not having the happiness of contemplating peace on earth, living in war! Living the pain, the tears of a world in which so much love is lacking.
In this Lenten season, we reflect on the love of Jesus Christ for us. What did Jesus do for us? He died for each one of us, He gave His life! He walked according to the Father's will so that each heart could contemplate the glory, the resurrection, the greatest happiness, which is to know that everything belongs to the Father: our life, our walk.
This is a time when humanity needs a lot, to value more this encounter with Jesus, this search. You have to be in His presence, bend your knees, have that unique moment of faith between us and Jesus, who is God! Lenten time invites us to live with Jesus. That is the greatest joy. It is what we can do best, it is our return to Jesus. The world is tired and hurt, the world is lost, because man lives individuality, indifference and inequality.
Man always wants to be ahead of Jesus in science, in wisdom, in development, in technology, in knowledge, in experiences. There is no one, My children, who can be ahead of Jesus. Whoever wants to be ahead will fall! Because does not live the Ten Commandments of the Law of God! You don't know those commandments, so you don't live! Those who knows it, lives it! He will always be the way, the salvation, the truth and the last lifeline.
This is a time of worship, of meditation, of examining your conscience, of penetrating deep into your heart and seeing where it hurts, where the wound is. Look for that wound that needs a lot of healing, but out of pride, out of selfishness, does not seek to heal, which is forgiveness, conversion. For that, dear children, the cure is prayer, it is the Holy Rosary, the Holy Rosary. The mysteries of the Holy Rosary are beautiful. They can transform your life, the Holy Church. Because the Word of God is a Word that saves!
I would like very much that in this Lent, that My children, the predilected Priests, would become victim souls for the conversion of sinners and the salvation of humanity. satan hides himself under various disguises of a good and charitable aspect, of an intellectual and holy appearance, but deep down, what he has in mind is to create division, heresy and confusion.
The Church of Jesus Christ is plagued by the evil contagion of infidelity and apostasy. Apparently everything is going well. In fact, children, the Church is invaded by lack of faith. Many bishops, priests, religious and faithful do not believe, they have already lost their true faith in Jesus Christ and His Gospel.
I wish My children, that everyone prayed for them more and more! United with Me, the Mother of Goodness, with Heaven, with the Holy Family and with Saint Joseph. This month is dedicated to Him. Saint Joseph, My children, was an example of silence and perfection! It was what Jesus Christ wanted from Him: love, commitment, responsibility and fidelity, He sought to perfect Himself in the way of Jesus. May He make you all a united and strong heart.
I would like very much My children, you to remember Him, St Joseph, in this month on the nineteenth, to thank God, and to have as a great protector of families, one who with affection was an instrument of God to give the Child God, the love, the affection and protection. To protect and help families all over the world, which are falling apart, without wisdom, without discernment, without charity, without mercy.
So My children, on St. Joseph's Day, you should be with your hearts happy, even if your eyes oppress you for lack of prayer in your lives, because Lent is the time when the devil most torments mankind.
Remember also that on the nineteenth day, when you are going to fast, you will place this fasting in the hands of Saint Joseph, so that He can lead your needs, which today you need so much, because He knows that you need a lot of blessings, perhaps more than yourselves know at this time.
We are going to place all the children of the whole world, our lives in the hands of St. Joseph, and He is a Saint who will protect humanity with great affection. The heart of Saint Joseph has always been a protective heart, a heart that has protected the Child Jesus with so much love and joy, and today it protects children, young people, families, the Holy Church.
May Saint Joseph intercede for us, for this virus, especially for your Pope Francis, which today is the last day of his visit to Iraq, and who is now celebrating Holy Mass for all Catholics and non-Catholics. Our hearts, Mine and of My Son Jesus, leapt with great joy, when We saw the Pope celebrating.
May he bring peace to all Iraqis.
I also saw My children, your Pope walking everywhere, where he went to visit without a mask, children, that was very emotional for Me.
May My children always remain, under the protection of the Father, the Son and the Divine Holy Spirit, also under the great blessing of Saint Joseph on your life. Amen
Mary, Mother of Goodness
(Publication reviewed by Brother Fernando Pires)
---
Prayer month of March (07-03-2021)
O Glorious Saint Joseph, who has been given the power to make humanly impossible things possible, come to our aid, in the difficulties in which we find ourselves. Take under your protection the important cause that we entrust to you, so that it has a favourable solution.
O dearly beloved Father, we place all our trust in you.
May no one ever say that we invoked you in vain.
Since you can do everything with Jesus and Mary, show us that your goodness is equal to your power. St. Joseph, to whom God entrusted the care of the most Holy Family, we ask you: be the protector of our family, and grant us the grace to live and die in the love of Jesus and Mary.
Saint Joseph, pray for us, who turn to you. Amen
---
---
Message from the 4th of April 2021
(Message from St Michael the Archangel)
My dear brothers, I Archangel Michael, servant of the Lord and the Virgin Mary, greet you and give you Peace! I bring the message from Our Heavenly Mother to this brother Fernando(visionary), to transmit to you the requests that She asks of you.
Brothers and sisters, today Easter Day, flee from all sin, from everything that distances you from God and the Most Holy Mary, from everything that disturbs your peace, and from everything that pulls you down. Brothers, you will persevere in the prayers that were given by Our Heavenly Mother.
My brothers, She asks to pray a lot!
The warning is near! The miracle is near! The punishment too!
Convert without delay! Do not leave it for tomorrow, because this tomorrow may never come for you. Convert today! And then you can be sure that God and the Virgin Mary will always be hand in hand with you, and even when you lack strength, even when you stumble over your miseries, They will take you by the hand, brothers, They will lift you up and put you back in march on the path of Salvation. I love you all, I am your brother who loves you so much. I now give you My blessing and My Peace.
Brother Michael
 
Message from Our Heavenly Mother
My dear little children, today Sunday, Easter Day, which you cannot celebrate with Me the Resurrection of My Son Jesus Christ(due to covid 19 people can't go to the apparition site), I, Mary Mother of Goodness, the Mother of Love and Mercy, I tell you: In your homes, listen with love the words of your Pope Francis, which are addressed to himself and also to yourselves.
My children, once again Our Hearts jumped for joy, when We saw your Pope, on Palm Sunday, celebrating Holy Mass without a mask. And with great sadness seeing other predilected children attending Holy Mass wearing a mask. Therefore, children, defend with love and courage what your Pope preaches. Rejoice children with Me, because Jesus, Crucified and killed, resurrected with His Glory, Immortal, never to die again.
I ask you children to reflect on the profound Mystery of the Passion, Death and Resurrection of My Divine Jesus Christ. I also ask you to have sincere repentance for your sins, and to return sincerely to your God. Intensify your prayers and sacrifices for peace and the conversion of sinners, in these very difficult times that you are going through.
My children, I will repeat once more a Mother's advice, which I gave you a long time ago and I will repeat it again this Easter day: I would love, My dear children, that you overcome a defect each day. If your defect is to get angry, try to make yourself less angry. If your defect is that you do not talk to someone, try one day to talk to that person. If your defect is that you cannot stand a proud brother, you must try to approach him, and if you want that brother to be humble, be humble yourself also. Show children that humility is worth more than pride.
So each day try to overcome and reject a defect in your heart, and look for the defects that you have to overcome this Easter. Slander and scandal, both are homicides. Children, slander is much worse when it comes from the heart and lips of My predilected children. Those who receive My Son Jesus Christ frequently, who attend the Church, change with great ease from murmuring to slander. Sometimes it is born out of envy, jealousy and pride, at other times is the small rivalries that exist in prayer groups, even in good ones, but it turn them satanic. The envy and jealousy of the graces of others makes you able to discover even what does not exist and to spread the evil that in reality does not exist. Flee from these so grave sins children. If you cannot speak well of your neighbour, be silent. It would be much better for you to remain silent than to misuse your tongue. This Easter, My children, make the solemn promise that you will no longer be stained with these sins, so easy to avoid. Free yourselves from your sin, look for a minister of My Son Jesus to make your Holy Confession this Easter. And thank God that He has allowed the Priest to listen to you in confession and in His name to forgive your sins.
Little children, convert as soon as possible! Hear My voice while it still can be heard by you. To My children who are unable to receive Holy Communion this Easter, I will repeat again what I said in several messages: children, make Spiritual Communions, this will be accepted by My Divine Son Jesus Christ, Which does not agree, which is not an accomplice and does not participate in injustices done to My children who love, obey and follow My voice. Therefore, My children, be reassured before God, you are in peace and friendship with Him.
Go ahead, My little children, by the prayer of the Holy Rosary we will triumph, through penance and love, Me and My Son Jesus will be with you, and have hope My children! Your Calvary is about to end, and soon will come to you the rays of the Dawn of the Resurrection and Liberation from all present evils in the world that has now overwhelmed you.
My children, what is important is conversion, receiving the Sacrament with dignity, what is important is to look for the confession that restores, renews, heals, fortifies. It is the confession that makes you worthy of the Eucharist, and it also involves suffering as this Sacrament is being outraged and even somewhat forgotten in many places! Children, seek to live the Sacrament of confession this Easter, try to be at peace with God and then you will be worthy of the Greater Sacrament.
Children, the sacraments were instituted by Jesus and they will never be overthrown. The Sacraments do not require places! Baptism can be given at the Baptismal Font, or at the lake, or with a mug, as the value is in the Sacrament and not in the utensils. A wedding can be done at home, in the countryside, as the Sacraments do not require places! I say this to you, children, because the day will come when this will happen.
My children, pray a lot for your Church! Pray for your ministers! Priests who are not being encouraged are persecuted and transferred to other parishes, slandered, overthrown by their bishops!
They are the ones chosen by the Father, and only the Father is in charge of correcting them. Priests have an obligation to carry out their mission according to what the Church determines, but they are also confused and afraid. My children, help them and pray for them, because sometimes they fulfil difficult roles and carry large crosses and are attacked fiercely by the enemy.
My children, before I finish, I say again, pray, pray, pray a lot for your Pope Francis, he is in danger of being exiled from Rome, he is hated in many places and within the Vatican itself. The next Pope, after Pope Francis, will not be from God. And the keys of Rome will be returned to My Father, God the Most High, who will rule from Heaven.
The great responsibilities will be placed on the holy priests, bishops and cardinals, who love very much My Son Jesus Christ. My children, they will need a lot of courage and divine strength to guide and prepare souls for My Son's second coming, they will be opposed to the other dark side.
I urge all children around the world to pray for the strength they need, because the antichrist, the false prophet, will have full authority. Will be given a series of untruths to My children, they may be called to honour and accept in the Holy name of My Son Jesus.
Pray My children, this prayer described below, every month, every day, to ensure that the priests, bishops and cardinals of God do not fall into the ungodly deception, which is already being planned by the false prophet and his followers:
The prayer
Please, O Most Holy Mother of Salvation,
pray for the Catholic Church in these difficult times
and for our Pope Francis, to alleviate his suffering.
We ask you, Mother of Salvation,
to cover the Holy servants of God with the Holy mantle,
so that it may be given to them the graces of being strong, loyal and courageous
during the tribulations they will face.
Pray also that they care for their flocks
according to the true teachings of the Catholic Church.
O Holy Mother of God, give to us, your remaining Church on earth, the gift of leadership,
so that we can help guide souls into the New Kingdom of Your Son.
We ask You, Mother of Salvation,
to keep the deceiver at a distance from the followers of Your Son,
in our quest to safeguard our souls,
so that we are able to enter the doors of the New Paradise on earth.
Amen
Go dear children, pray this prayer for the renewal of the Church and for the security of those Sacred Servants, who will suffer for their faith, under the domain of the false prophet.
I wish all children around the world a Happy Easter at home. The Lord Jesus Christ is truly risen. Hallelujah, Hallelujah, Hallelujah.
I the Mother of the Risen Jesus Christ, Mother of Goodness, I bless all the sick in your families, who are in hospitals or in their homes.
I bless all little children, the elderly and the youth, parents and their children. I bless your country, Portugal, that I love so much.
I give you peace, understanding and the sense of fraternity.
In the Name of the Father, the Son and the Holy Spirit. Amen.
Mary, Mother of Goodness
(Publication reviewed by Brother Fernando Pires)
---
Prayer month of April (04-04-2021)
To God, Almighty Father, in the Name of Your Beloved Son Jesus Christ and in commemoration of His Death on the Cross to save us from our sins, I ask Him to save the souls who cannot save themselves, and who can die in mortal sin during this epidemic. In expiation for the sufferings of Your Beloved Son, I urge You to forgive those, who are unable to seek Redemption, because they will not live long enough to ask Jesus, Your Son, for Mercy to free them from their sins. Amen
 (Publication reviewed by Brother Fernando Pires)
---
Message from Brother Fernando Pires (visionary) (04-04-2021)
My brothers and sisters, by my and your Roman Catholic formation, we believe that there is only one God, existing in three persons: God the Father, God the Son and God the Holy Spirit. We also believe that there is only one way to come to the Father, whose way is through His Son Jesus Christ. However He is the Light in our lives and our guide on the way to the Father.
Brothers, our Virgin Mary, Mother of Goodness, has a special place in our hearts, because I believe that She guided me these years, to Her Son Jesus Christ, in a very special way. I, brothers, am only a servant, blessed by the Virgin Mary, the Mother of Goodness, and I don't know exactly what She wants to do with me, but this is how much I know, that She will complete the good work that She started in me, to announce Her messages to the whole world! My brothers, the Virgin Mary, the Mother of Goodness, appears in various places in the world, to give us a warning: If my children do not submit to God, I would be forced to leave them in the Hands of My Son Jesus Christ! The reasons here, my brothers and sisters, of the Virgin Mary, for the end of time, Her sadness, Her floods of tears and Her words are the expression of Her interest and affection for humanity. We will never be able to repay Her for what She has done for us.
Brothers and sisters, our Heavenly Mother asks us for many prayers to save humanity. She asks us for conversion, prayer and penance. She draws our attention to the grace that the Rosary brings, and She asks and begs: "let us be reconciled to God ".
She also says: I want all children to be saved, both the good and the bad. I am the Mother of Love and of all races. This is the reason why I am inviting the world to pray a lot. Brothers and sisters, these warnings from the Mother of Goodness, also makes it evident to all Catholics that the duty to keep the faith and keep the soul in a state of grace is very demanding, more in our days than it was in the past, because of this virus, and our Heavenly Mother told us that St. Joseph was going to be the Father of families, the protector of all families around the world,  and She asks us all to be able to unite with Him, with strength, devotion and humility. May we pray for this epidemic, to put an end to this virus and many things that have been happening in this world.
Brothers, also because of the greater power of demons, the unprecedented crisis in the Church, and the general state of corruption and apostasy in the world. Brothers, in order to keep true faith and to keep our souls pure and clean from any sin, we Christian brothers, we will have to make special efforts in the practice of virtues, in prayer and in receiving the Sacraments, as well as leaving the vanities, pleasures and the fashions of the world, which are the causes of all kinds of temptations and sins. My brothers and sisters, remember, when our sister Lucia spoke to Father Fuentes, about the need for each Catholic to take on the work of his own sanctification and not to wait for Rome's help or assistance before beginning this sanctification, which is a terrible statement for Rome, coming from the visionary in Cova da Iria-Fátima.
When we think about it brothers, how relevant this is to our own lives when we see the complete failure of the Roman modernist hierarchy to bring souls to Jesus Christ. Brothers, our sister Lucia also spoke to Father Fuentes, we must not wait for an appeal to the world from Rome by the Holy Father, to do penance, nor should we expect the call for penance to come from our bishops in our dioceses, or from religious congregations. No! Our Lord Jesus Christ has used these means many times and the world has not paid attention. That is why that now each one of us begin to reform himself spiritually. Each person must not only save his own soul, but also the souls that God has placed in our path … The devil does everything in his power to distract us and take the love of prayer from us. We will be saved together or we will be condemned together, that's what our sister Lúcia told Father Fuentes.
My brothers and sisters, what Father Fuentes said to us: My dear faithful, as it is now the last letter I am writing to you before I leave for the United States, I would like to leave these warnings as a kind of spiritual legacy. Our Lady Herself, who wants more than anyone to preserve you and your families from the corruption of this world, who wants your sanctification, who sincerely wants your Salvation and of your own children. My Priestly heart wants to echo, once again, to your souls, the words of Our Heavenly Mother, and just as She, in Her, through Her and with Her, wants to cry out to you again: Beware, My dear children , times are bad, the world is corrupt, the Catholic Church itself is deeply hurt by its own members, God's wrath is at hand, and terrible punishments must come to cleanse the world of its sins! Do not follow the New Religion, do not follow the fashion. So my brothers and sisters, we have to be very careful, not to follow the modern clerics, or those who commit themselves to them! We do not follow the world and its fashions we do not leave our children with the bad religious literature. My brothers, I finish this message of mine, already very long, to be with the greatest vigilance, in these very troubled times. About our souls and those of our children, they are in fact in the greatest danger in these days of epidemic. Let us not be discouraged and let us not forget that God, in His Infinite Mercy, will give us even more abundant graces to overcome this epidemic. And may the Immaculate Heart of Mary always be able to keep our families under Her most special protection.
A hug to all the brothers from all over the world, a good Easter and may God bless us and protect us all.
The Lord is truly risen
Hallelujah, Hallelujah, Hallelujah
So be it. Ámen
The brother in Christ, Mary and St. Joseph.
Fernando Pires,(visionary)
---
---
Message from the 2th of May 2021
(Message from St Michael the Archangel)
My brothers and sisters, I the Archangel Michael, I tell you: prepare yourselves properly, difficult days are approaching for all humanity. At this time, your faith is important, because as never, you must be attentive, prepared for strong trials. I will not leave you alone and will protect you from all evil. Do not be afraid. I the Archangel Michael, I am with you and I walk among you, and today I bless you in the Name of the Father the Son and the Holy Spirit. Be at peace, my brothers. Amen
Archangel Michael
 
Message from Our Heavenly Mother
My dear little children, today, on this first Sunday of May, month dedicated to My Immaculate Heart, I pour on you the perfume of My presence, in your homes. This perfume that exhales from the depths of My being, must be a balm for you, to cure you of all the diseases and concerns that afflicts you from this epidemic. My children, on the 13th of May, you commemorate My first appearance in Cova da Iria, in Fátima. I invite you to follow the path of Holiness, perfection and true love. This is also the path that I have called you to, in this Sacred place Corgo da Igreija, which is the continuation of Fatima, and where each day I lead and guide you towards God and Salvation. My children, what I have said in Cova da Iria, in Fatima, I repeat to you again, pray, pray, pray a lot the Holy Rosary every day for the conversion of sinners, for peace in the world, for the end of wars and also for the end of this epidemic. Convert little children as soon as possible! Do not offend anymore God, our Lord Jesus Christ, who has already been too offended, and prepare yourselves, because the great warning is at hand, it will shake the whole earth, all men will know that God is alive, that He exists. My children, this day of May coincides with the celebration of Mother's Day. Mothers from all over the world. Listen: Being a mother is a grace of God, but being a mother is also a responsibility. As this day of May is Mother's Day, I ask the Divine Holy Spirit to descend on all mothers, worldwide, to bring Mercy to their hearts, preventing them from wavering, so as not to make more mistakes. My dear children, take care of your Church! You are responsible for it. You too, will be asked for accountability! In these recent times, the Father has chosen many women to be a Ministry! Women have always been looked upon with affection by the Father and many have already been chosen for great jobs, and today they are too! That is why the devil does not want, he preaches through false Christians, that women are prohibited from this or that. My children, the Holy Bible never banned women, on the contrary, through them the most beautiful stories of the salvation of mankind have been written! Men, since the dawn of time, have marginalized women who were given the gifts, and not to them. But My children, Jesus Christ had them on His journeys : Martha, Mary and Magdalene, they were all disciples, although the evangelists did not mention them! In fact My children, little has been mentioned about Me. Perhaps because women always preferred to make room for men, because they realized that for men, flattery or honour's were very important! But God decided: the woman will crush Satan! At where? At church! That's why the woman is in the Church! That is why the Father invites them to the most diverse missions. The men who attend Mass, paying attention to women's behaviour, are not attending before God, but are sinning in their hearts! They are committing adultery and inside the house of God! This is blasphemy! It's sacrilege! Children, take care of your hearts. Love and accept God in His determinations! Love His Church! Love yourselves, not allowing malice, lust to take over your hearts, lest you be lost forever! Be submissive to the Father! Accept His designs!
My children, still I tell you, if it weren't for women, surely the churches would already be empty. And women have had this mission since they were conceived by God! And the devil has been chasing them ever since! Children, be attentive, do not listen to the devil, he is extremely a liar. Today, I surrender the sick world to Jesus Christ and ask for the healing of the earth, of men. If man does not convert, the tendency is for new storms, new sufferings, new illnesses and more painful ones to emerge each day. My children Jesus warns us: Let's be careful! Take care of your home! Take care of your family! Because you will be contaminated by something worse than this epidemic.
So children, pray with more faith, pray with that desire to see the world better. The world is very sick and sad, is suffering! Feel it children! The world is suffering! If you children want a world of peace, you must have that desire. Whatever you desire and plead, you will achieve, God is listening to you. And that is why I say to you: Children! Do not abandon your journey, do not abandon the love of God! Will the world suffer? Yes! But the love of God will save you. Finally, My dear little children, I want to thank in a very special way, all the mothers from all over the world, my children who welcomed Me with love and affection in your own homes today on this afternoon. My blessing to all. I bless you My children in the Holiness of the Father, the Son and the Holy Spirit. Amen
Mary, Mother of Goodness
(Publication reviewed by Brother Fernando Pires)
---
Prayer for the month of May (02-05-2021)
O Immaculate Virgin, Mother of True God and Mother of the Church, listen to the prayer that we address to you, and present it to your Son Jesus Christ.
Grant to our homes the grace of love and respect for life from the beginning, with the same love with which you conceived in Your womb the life of the Son of God. Blessed Virgin Mary, protect our families so that they are always united, and bless the education of our children. Our hope, look upon us with compassion, teach us to continually go to Jesus and if we fall, help us to rise again, to return to Him, through the confession of our faults and sins, in the Sacrament of Penance, which grants peace to the soul. Therefore, Most Holy Mother, with the peace of God in our consciences, with our hearts free from evil and hatred, we will be able to bring to everyone the true joy and the true peace that comes to us from your Son, our Lord Jesus Christ, with God the Father and the Holy Spirit. Amen
 (Publication reviewed by Brother Fernando Pires)
---
---
Message from the 6th of June 2021
(From St Michael the Archangel)
Brothers and sisters, may the peace of God the Most High be with you.
I, Michael, Prince of My Father's armies, promise you that I will be a friend and intercessor in this life and in the arrival at eternity, of all those who pray the Holy Rosary. I will not allow any of My brothers to be lost, and will do the same to their families.
Therefore, do not fear brothers, we are always available to serve you, to protect you and support you from all harm and danger.
Brothers, My Father has granted Me the honour of preserving His faithful flock from all harm, that is why you must not fear, but trust, pray and ask My Father to have mercy on this humanity, so ungrateful, so sinful and so forgetful of the wonders and goodness of God.
Brothers, you do not know how much it hurt Us to see so many souls who, at this moment, in your time, are getting lost. But We, the Archangels and Angels, cannot help them. Do you know why brothers? Because they turned their backs on the God of life while they had life here on earth!
How much sorrow afflicts Heaven! What pain My Father feels, seeing so many souls being lost! Brothers, I ask you, that when you make your prayers, include the sinful souls. Brothers, may the peace of God the Most High accompany you.
We are your friends and advisers, Archangel Michael, the Archangels and the Angels of the Kingdom of My Father: Amen
Michael Archangel
 
Message from Our Heavenly Mother
My dear children, it is a joy to be in the beautiful presence of the Sacred Heart of Jesus, especially in this month of June, of devotion to that Holy Heart. Jesus loves us and welcomes all our needs! May it be spiritual, temporal or material! The great quest of humanity across the face of the earth is for justice.
People are tired of seeing the suffering caused by greed and dishonesty, especially your country that cries out for the Mercy of the Lord. May The Lord wrap Portugal with His Sacred Mantle so that this country may reach the beautiful mystery of peace! The Sacred Heart of Jesus will always shower many blessings on this country and on all nations in need of love and justice. My children, this will have the purpose of awakening people to the spiritual growth. The world will only be, in fact, happy when humanity wakes up to God!
This is a strong warning My children, because awakening to God is not for anyone, but for the heart that thirsts and hungers for God.
So My little children, it is the Heart of Jesus that the world needs so much. The world needs this Holy, Blessed and Sacrament of the Heart, so that all the needs of all creature can be restored and Sanctified.
All needs resume down to this: People need a lot of God! Only from God, solely of God! Little children, upon hearing these words, we have a clear sense of the distance that separates the world from God!
Therefore, each one of you must praise God and feed your soul with the greatest Word in the world: The Word of the Lord! The presence of God is, in fact, manifest within us. The Saints who proclaimed the presence of Jesus Christ in their souls said: Christ lives in me, so I am happy.
People's turning away from the things of God causes the world to shed tears and be in hard suffering. There is no greater suffering than that of the heart that has no peace.
Children, when you have peace, you have everything in life! Food has flavour, the family is happy, work has roots and bears fruit! This happens when you have God, but when you lack God, the food has no flavour, your family is worthless, and your work is meaningless.
That is why, children, humanity lives so lost in the face of arduous spiritual suffering. People put everything into life, but they forget the essence of life: God!
My children, Jesus makes a great appeal of faith and good will to us, He appeals to the courage of the missionary, to speak and witness about the Kingdom of God. This Kingdom is also present on earth today, because Jesus Christ is the way, the truth and the life among us. It is this path, this truth and this life that will lead us, in fact, to the salvation of our souls.
Whoever truly opens his heart to the Service of the Gospel, grows, because he learns that Christ builds in us the pillars of His teaching.
My children, a beautiful example is when you dedicate yourself in doing something for the needy: the sick, the needy children, the people in need of affection and words of comfort. Jesus makes of you an instrument.
That is why My children, I call you to the path of forgiveness and obedience, to follow in the footsteps of Jesus Christ, dive into this most Merciful ocean, and, in the entrails of that Merciful Heart ask God for forgiveness.
My dear little children, help Me to save your world! Consecrate your lives, your hearts, your families and your faith to Me. Consecrate to Me the most sinful nations, so that they may be converted.
Do not be discouraged by the difficulties of the world! Do not give up, My children, in the face of the evil and injustice of the world. So far this epidemic remains uncured, killing thousands of My poor children. If the world were not so evil and perverse, I would certainly tell you in detail how to cure this epidemic. There is no human healing…only God can heal! But, as they neither seek God nor salvation, I cannot reveal anything to them, the Lord continues to allow this epidemic, a just punishment for those who sin the most.
Pray, pray, pray a lot My Holy Rosary, it will be able to destroy the temptations of sin.
The devil wants to cause a great division in the world! God wants the unity of peoples, He wants unity and brotherhood.
My children today I invite you to open your hearts to the will of God. Remain united to My Heart, obeying the calls of My Son Jesus Christ.
Humanity is on the brink of a catastrophe, and My adversary acts night and day to drag a multitudes of souls into the abyss. One of his greatest desires is exactly to exterminate all the children. Terrorism is and will be one of the worst weapons My adversary will continue to use to annihilate and harm millions and millions of innocent lives in this world.
My children, Jesus Christ is warning us: let's be very careful! Take care of your homes, of your families, because they can be contaminated by something worse than this epidemic.
My children, our hope is the Lord Jesus Christ! The One who created Heaven and earth; He who made us in His image and likeness; The One who gave us salvation; The One who is Our Saviour; He who is our Resurrection and the Source of Mercy that flows into the world, in which lives in tears of pain.
My children, on this Sunday, day of the Lord, I want to surrender the world to the Sacred Heart of Jesus, all the families that are going through suffering, through loss, I ask that Jesus Christ console them, comfort them and give them all the necessary strength. I also want to surrender all the sick, sick in body, soul and heart, so that Jesus can heal them and give them life, life in abundance, life in full.
Therefore, children, gather together in prayer for the Churches of the Orient and the Occident, for your prayers will make a great difference, and the goodness of the Lord will be manifested in your hearts.
Before I finish My children, you know how the world is, there will be a shortage of food, many children will feel threatened by hunger, hatred and violence .
Pray, pray, pray a lot, this is what I ask of you so that there is not too much hunger.
I love you little children, so I warn you.
I bless you, in the Name of the Father, the Son and the Holy Spirit. Amen
Mary, Mother of Goodness
(Publication reviewed by Brother Fernando Pires)
---
Prayer for the month of June (06-06-2021)
My beloved Jesus Christ, come to heal the wounds present in my heart and in the hearts of all your children, my brothers. I ask you to come and pour hope on this world in distress and despair. This world in which man is no longer able to seek the solution of his problems in the Word of God, because there is lack of prayer, lack of surrender, lack of trust and lack of giving oneself entirely to God! In His infinite love as a Father, God gives Himself completely to all of us and gives us the happiness of living together with Heaven, listening to His Holy Word; teach me Jesus, to place You in my heart, to dive into the ocean of Your beautiful grace, to overcome sacrifice and make me worthy to be holy.
God is for us, praise Him! Amen
 (Publication reviewed by Brother Fernando Pires)
---
---
---
---
Dear friends pilgrims  and benefactors.
We inform you that our IBAN (bank details) will soon be presented so that you can make your donations, so that we can move forward with this work of Our Lady Mother of Goodness, according to the designs of God.
The challenges that lie ahead are significant, but we believe that your hearts and generosity will be touched and guided by the Hearts of Jesus, Mary and Joseph, so that this work of God with your help can move forward with the necessary actions and interventions in the necessary lands and infrastructures, for the evolution of the Sanctuary Corgo da Igreja, Sanctuary of Light for the world, a Sanctuary of Light for the people of God.
"(…) My children, you must never despair. Nothing can stand in the way of what belongs to God! Never forget that! What is of God has a much greater strength than the trap the enemy wants to set to bring down those children who pray, those who walk who evangelize. (…) "
(Our Lady, Mother of Goodness, in 2020-12-06)
---
---
DECEASED
Father MANUEL VIEIRA
(05-05-1922 to 05-07-2020) (98 years)

We inform all the Pilgrims, friends of Our Lady Mother of Goodness, that Fr. Padre Manuel Vieira passed away on the dawn of the 1st SUNDAY of JULY (05-07-2020), at the Hospital São Bernardo in Setubal, Portugal.
---
---
---
---
Explanatory note:
This apparition is supported by the decree of the Congregation for the Propagation of the Faith (AAS 58/16 of 29 December 1966, which defends canons 1399 and 2318, thanks to the intervention and approved by SS Paul VI and published by his will where it says: "It is authorized to disclose, even without express permission of the ecclesiastical authority, writings concerning new apparitions, revelations, visions, prophecies and miracles, counting on observing Christian morality in general."