---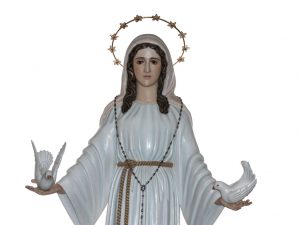 Message from the month of JANUARY

---
WARNING : The messages are textually copied from the manuscripts of Brother Fernando Pires. Good discernment.
---
See photos in: "FOTOGALERIA"
---
HOLY COMMUNION kneeling and in the MOUTH    "DISCLOSURE"  
---
(…) you must faithfully live your Consecration to Me and to My Son Jesus Christ , 
/ 
, in your hearts, prepare yourselves, cleanse your hearts from hatred, (…)
---
---
---
Message from the 2nd of January 2022
Message from Our Heavenly Mother
My dear little children, today dawns a new day, and on this new day a new year also dawns. If we look well deep inside our hearts, we will understand that in every new year, man always hopes for a better world. But today, in this new day that dawns, would be necessary to appear a new man. It's not enough just a new year! It's necessary men and women with hearts renewed by faith.
I say to you children, that many storms will come towards humanity. This year is a year of great tribulation, it's a year in which you have to take care of your spiritual life, your faith: to forgive, love people, help those in need. This year is a very difficult year. It is a year in which anyone who is not united with Jesus can falter terribly.
What can I tell you children, as a Mother, the One who brings the greatest food in life, which is the Word of God? What can I alert you to, for this new year that is born? What I can warn little children, is that your life needs to be even more in God's hands! Because you are persecuted, tormented, and often fall in the face of these torments. How many who no longer believe in the power of God! How many who completely doubt what God can and what God does! That's why My children, in this new year a Mother's request: Have Faith, you will overcome many and many sufferings by Faith. Oh, My children, you can hope for a better world because Jesus is fighting hard for you, giving knowledge to what is forgotten by you: the Gospel, the Eucharist, the Word of God, the Commandments of God! In this new year, it's necessary that your hearts are consecrated to the gifts of the Holy Spirit. It takes a wise people of God, people of God who are alert, alert to the danger that is present in the life of a Christian and of the one who serves Christ.
Therefore My children, let us all dedicate this new year, which is just beginning, to the Holy Church, including the Holy Father, Pope Francis. Let's ask God for all the protection to the Holy Father in his visits. We will also include in our request the Bishops, Priests, religious men and women, for Christian families, which are all of you! Let's all make a strong chain of prayer, asking God for the Catholic Church, for the people of God who have forgotten the Faith, who have forgotten the fear of God, respect for the Sacraments, obedience to the will of God.
We are seeing men destroying themselves with weapons which are: pride, selfishness, hatred, anger, greed, envy, laziness. Man needs to wake up to know that his life is not a tale, his life is a grace from God. Years have passed, but Jesus Christ remains with us. How many are in the Heavenly glory! And you are on your way to that glory. But humanity is getting lost so easily.
My children, the world needs to undergo a great transformation. Jesus is preparing nation by nation, and today, He teaches children all over the world to pray, truly, to unite with the true purpose of being the Church of Jesus that walks His path. Many of My children have split. Why is faith non-existent? Because many children based their faith on their interest and not on Christ, on the Eucharist, on the Gospel, on charity, on solidarity. They sought their own interest and not God's will. And the Church got divided and became fragile. The Church is strong because has God, because we see in all the Tabernacles of this world the greatest miracle happening, today and always, which is Jesus giving Himself as Food for the world. But if we look, how many souls do not receive the Eucharist? How many people who don't have a prayer life? Who don't have a God fearing life? Who don't have a life of dignity? How many children who are running along such empty paths, wanting to be a Christian by appearance and not by essence? Dear children, whoever wants to be happy and holy, walks in the footsteps of Jesus Christ, he rejoices, he is serenity, like you, walkers, who have travelled along paths to arrive here at this Sacred place Corgo da igreja. You came not as children of humans, but as blessed children of God. You came bringing your heart, your joy, because among you there is also young people. That's why we have to look at the world and have a wise vision, not a man who wants to transform this world with hate and revenge, but with love and forgiveness. Why is man not at peace? Because he wants to conquer with revenge, with hate. The world needs to wake up to faith, to wake up to God's plans, because in God's plan there is a family left by Jesus, and Jesus Himself is the One who leads it, the Divine Holy Spirit, the Father, and we are led by the protection of the Angels of God. A very rich Church that contains the Saints, who were faithful to God, suffering men who were born to teach that a sinful man can also become a Holy man, knowing how to experience the preciousness of the greatest good they have, which is the life that God has given them. This life, if you look inwardly, is special, because God made us to serve others. In the words of Jesus Christ, who said: "Whoever does not know how to serve, does not know how to live." Man doesn't know how to serve, that's why he doesn't live. Man lets himself be corrupted by greed, kills because of the things that passes by, and when an illness comes he wakes up, wakes up and understands that nothing is worth except his faith. Faith will be the weapon of the son of God, the true weapon, because faith will make you overcome all the suffering that will come. From the world we will only see sadness, but from God we will see strength, justice, courage and Light. My children, the world will live what Jesus made very clear: on one side we will see justice, on the other side pain; we will see hope on the one hand and suffering on the other; on the one hand we will see prayer and on the other the tribulation. Faith will be the weapon of a Christian, because it will lead him to pray. Praying the Rosary, a prayer of sacrifice, My children! But Jesus Christ had to suffer to save you! Therefore, the Rosary is a prayer of strength, of sacrifice.
Little children, this year you will see tribulations upon tribulations, deep sorrows, most painful sufferings. You will see who has faith and will know that it is a consequence of the end times. But, those who do not have faith will feel scared, speechless, without saying why and without understanding the reason for so much suffering. But My children will have a lot of courage! Remember that your journey here in this Sacred place Corgo da Igreja, is not a one-day journey, it is a journey of many years, even these pilgrims who come on pilgrimage, walking every month to this place which has changed a lot your own lives.
My dear little children, I have blessed this new year, and My children, so you may become aware that you need to be a new man, a child of God, faithful, a true servant of God, because the words that comes from Heaven to us are very clear, it's of no use dawning a new year without the need to be aware that you need to be better person. That's why Jesus Christ spoke to us so beautifully about the family, how much you need to look after your family, your home, especially parents for their children. He also asked to dedicate this year's to the Holy Church, which is all of us, a very strong, wise dedication.
That is why I ask you to pray, above all, for the conversion of Christians, for the unity of the Church, for the union of people with Christ. My dear children, I would like you to pray this prayer with great faith:
Lord Jesus Christ, who created a great family, who become the Living Bread, Holy and True, of this family, which is your Holy Church, the Holy Father, Bishops, Priests, religious, families, fathers and mothers and children. Give wisdom, charity, solidarity and peace. May Jesus be present in my heart and may I be to Christ the true Church, amen.
This prayer makes us reflect that Jesus Christ has left a Church, that we are the Church together with the Holy Father, Pope Francis and all the clergy. It makes us reflect that we need to be Church, to have a heart where Jesus dwells, because what the world lacks today is religion, the religion that Jesus left, My children! Man has completely deviated from what Jesus left and which is Heaven's Door here on earth, the Church! That's why you children will have to turn with all your hearts, to Christ Jesus who is the Church, to overcome all storms, because one of the greatest ones to come will be precisely the lack of faith and love to His Religion, the one that Christ left. Be faithful to Jesus Christ! This is what I ask of you, as your Mother, and may everyone spread this hope that only you can build a better world. Be good, serene, wise, even in the face of all the suffering you saw in these last days of the year that ended, don't be hopeless and don't be discredited, because Jesus said: "When everything seems lost, everything will be built." That's why Jesus is asking us to dedicate this new year to the Holy Church, because while people think that everything is lost, nothing that belongs to God is lost, everything is transformed! And we will see a wonder of transformation through the prayer of the people of God.
Thank you, thank you to all the pilgrims who came in pilgrimage, on the steps of Jesus and also close to My Mother's Heart. Thank you to the children who came to experience this dawn of this new year. You children are the happiest people, because how many who are waiting for one New year but don't try to be better people. And the Word of God teaches us that the year, if man does not try to be better, it will be more sad and more suffered, because humanity has not planted love and hope. And you children came not only to plant, but to gather from Heaven this hope and the certainty that if you look out for your family, pray for the Holy Church, for Portugal and for the world, you can certainly have a New Year of great peace and love. Be in peace My dear children!
May God the Father, Son and Divine Holy Spirit bless you and bless also this New Year, especially for Portugal that needs so much Peace.
Mary, Mother of Goodness
in Corgo da Igreja
(Publication revised by Brother Fernando Pires) 
… download message, scan of MANUSCRIPT .PDF
videos at: _ MaedaBondadeTV  _ 
---
Prayer for the month of January (02-01-2022)
Holy Mary, Mother of God, I ask for your protection in this new year that is just beginning.
Always stay by my side and with the brothers I love so much.
Help us to make this year the best year of our lives.
May we all know how to let go of the burden of the past, helps us to forgive all who have wronged us, and ourselves.
Give us Peace, Light and Love!
Father of Kindness, in this month of January we celebrate the conversion of St. Paul, and by his example we realize that sin in our lives is not a definitive obstacle to holiness.
You are a Father of Mercy and ask us to live the openness of our being, to recognize and ask for forgiveness.
May Paul's example be a path that takes us from our limitations to the love and holiness of our destiny.
May your example motivate us to witness to the Gospel by sharing Love and Solidarity. Amen
Amen
---
---
Chapel in My Honour
"I say again My children, I am the Virgin Mary Mother of Goodness, tell everyone, including the priests, that I want a chapel in My Honour in this place ." 
---
---
DONATIONS / OFFERS
Dear pilgrim and benefactors,
The bank account details are now available, so you can deposit or transfer your OFFERS / DONATIONS to collaborate with N.S. Mãe da Bondade, to the following bank account (CGD – Caixa Geral de Depósitos):
Associação de Nossa Senhora Mãe da Bondade
NIB ("Portugal"):   0035 0648 000 7002 4330 16
IBAN:   PT50 0035 0648 000 7002 4330 16
BIC / SWIFT:   CGDIPTPL
---
---
PREVIOUS MESSAGES
Use the side menu for messages in "PREVIOUS YEARS"
---
---
---
---
DECEASED
Father MANUEL VIEIRA
(05-05-1922 to 05-07-2020) (98 years)

We inform all the Pilgrims, friends of Our Lady Mother of Goodness, that Fr. Padre Manuel Vieira passed away on the dawn of the 1st SUNDAY of JULY (05-07-2020), at the Hospital São Bernardo in Setubal, Portugal.
---
---
Explanatory note:
This apparition is supported by the decree of the Congregation for the Propagation of the Faith (AAS 58/16 of 29 December 1966, which defends canons 1399 and 2318, thanks to the intervention and approved by SS Paul VI and published by his will where it says: "It is authorized to disclose, even without express permission of the ecclesiastical authority, writings concerning new apparitions, revelations, visions, prophecies and miracles, counting on observing Christian morality in general."