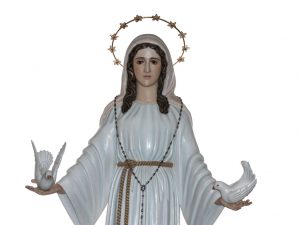 Message from the month of SEPTEMBER
---
WARNING : The messages are textually copied from the manuscripts of Brother Fernando Pires. Good discernment.
---
See photos in: "FOTOGALERIA"
---
WARNING
Once again the apparition in the site CORGO da IGREJA (S. Marcos da Serra)
(starts at 12:00)
(…) My children, from October you already can come to My Sanctuaries in Cova da Iria, Fátima and Corgo da Igreja, here in São Marcos da Serra, but with great moderation and also complying with the health authorities in your area. (…)

(6 of September 2020)
---
---
Message from the 5th of September 2021
(Message from the Archangel Michael)
Hallelujah, hallelujah, hallelujah. Glory to God, Glory to God, Glory to God.
Brothers and sisters, I the Archangel Michael, I tell you, this is the song of all the Celestial creatures and in particular from our Angels of the Choirs of the Throne of God. We praise and adore our God the Father, who is Love and fullness. Men of good will, sing too, hymns of praise and adoration to our Father, for great is His goodness and mercy to all His creatures.
My brothers, our beloved Father is all Love, Fullness, Mercy and Forgiveness. His Love is so great that He lowers to answer the call of His children here on earth. If you knew the mystery of Love that emanates from the Divinity of our Father, then you would understand that God is love and you would glorify His Holy Name. Brethren, do not waste your time in the things of the world, worship better in your hearts the Holy Name of the Most High, be temples of thanksgiving. Remember brothers and sisters, your existence is a miracle of love, therefore, do not get tired of giving Him thanks for all His Mercy.
Therefore brothers, be concerned in pleasing our Father, because Heaven and We the Angels, weep seeing you staining His Holy Name here on earth. We ask you brothers: why do you behave this way with Him, whom is Love? Why are you so ungrateful to the God of Life? See, brethren, what will become of you when the Spirit of God departs from the earth? You will cry, you will suffer, and it will be too late. Therefore, lift up your eyes and tear your hearts, praise Him and tell Him that you love Him, now that He is still among you, do not waste your time letting yourself be carried away by worldly concerns. All creatures, praise the Lord, mountains and hills, birds of heaven, praise Him, because His Glory is eternal and eternal is His Love.
Brothers, we the Archangels, Angels of the Choirs of the Throne of God, perpetually adore, sing and praise the Glory of God. Call on us and we will intercede for you, brothers of the earth. Remember that our Father never ignores our supplications for those who are most in need.
Brethren, the loving Father is very sad because of your behaviour here on earth; make reparation with psalms, with songs and hymns of praise, ask Him to have mercy on all creatures, because His forgiveness is great and His goodness is great. Unite brothers with us and say:
Glory to God, Glory to God, Glory to God, we join all the choirs of Angels in Heaven to praise You, bless You and glorify You, Eternal Father, Eternal Wisdom, Eternal Love.
Blessed, Blessed, Blessed be Your Holy Name from generation to generation. Amen.
Before transmitting the message of Our Heavenly Mother to our brother (the visionary), I wish that the peace of the Most High God, accompany you. May Our Heavenly Mother  console and protect you. And our intercession, of the Choirs of the Throne of God, assist you. We are your brothers, Angels of the Choirs of the Throne of God. Glory to God, Glory to God, Glory to God.
Archangel Michael
Message from Our Heavenly Mother
My dear children, today I, Mary, Mother of Goodness, want to ask all My children around the world, especially those who govern the great nations, to try to live peace. Today's world needs a lot of peace. Seek peace in everything and with everyone. This world needs to live in peace, live in communion with Heaven.
It is My wish that millions of children pray My Rosary, asking for peace. At this time, there is no peace. Your world is currently on the brink of two wars – economic and spiritual. I love you so much My dear children, therefore I warn you. I hope that your prayers be truly appreciated by Heaven and that humanity be blessed. Through the merits of God's Love and Mercy, may signs from Heaven be revealed to you.
My children, God wants to give you the grace of conversion and holiness, which is the most important thing. Many of you despair, you get horribly sadden with the sufferings, and you are overwhelmed with the problems of life. Children, remember that sufferings come and go, other sufferings will come and will also pass away, it's common in this earth life. This cause is because of sin. As I said in several messages. If you are sick, offer your sufferings, your pains, as a sacrifice and penance to Jesus. Always accept the will of God, this way you will be rewarded.
My dear children, this month you will celebrate the day of the Archangels, Michael, Gabriel and Rafael. Allow yourselves to be guided by Them in this month, for they and the entire Celestial choirs are united with us in a terrible fight against satan and his evil angels.
I ask you in the name of My Son Jesus Christ, that in your Churches, only Priests and deacons who are about to be ordained may distribute Holy Communion! Do not hurt the Sacred Heart of My Son Jesus even more! Every Priest is held accountable to My Son! Some Priests sit comfortably in their chairs and let the laity distribute the Holy Body of My Son. Priests must offer My Son's Body to the faithful kneeling and in the mouth. My Son Jesus said: stop with Communion in your hand and stop receiving standing up, because no one can touch His Holy Body, except the consecrated hands of the Priests.
My children, Jesus Christ also said: I communicate to My Bishops and Priests: only My servant Priests can open the Tabernacle and carry the chalice with My Body, and not a lay person! My Heart is terribly wounded! Each servant, Bishop, Priest and every person who lives on earth will be held accountable at the Court of God for all of this. So, God the Father, I the Son, and the Holy Spirit, will bless those who obey Me and My Mother! Be united with the Holy Church and pray a lot for My servants, Bishops and Priests, so that they distribute My Body, only on the knees and in the mouths.
My dear little children, make sure that this message is urgently disseminated to Bishops, Priests and all children throughout the world. Thus, everyone will help Me to save the nations that are threatened and are full of sins that offend the Love of God.  "SPREAD"
You must beg God for much Mercy for the families all over the world who are sinning and going through severe suffering, victims of floods, fires, wars and this epidemic. That's why I look at the world and feel sorry for it. I pity those children who do not know how to serve God, who do not know how to give their lives to Jesus.
My little children, there is so little time left! The events are already here! The sadness that is already reaching humanity. Humanity is not prepared for greater suffering. Humanity today is a sick humanity and humanity's illness is of the spirit! It's a spiritual disease: it's truly a lack of God!
Today, when talking about the things of Heaven, many speak, but few understand what Heaven is, because here on earth, in this passage, everyone should live aware that this passage leads to Heaven.
Where are the good works? Where are the good deeds? Today people only think about themselves. People kill and do violence and materialize so easily. What is worth the material things? Nothing My children! What matters in life is having faith, and having God!
My children, have you stopped to reflect, that when you say your prayers at night, it means a night of encounter with God, a night when you can rescue a soul for Jesus, asking for Mercy for your brothers in the world, for their families, for the youth, for the children, for the Holy Church, which needs so much of God, so much of Light?
That is why I am with you, and I want to be with you always, My dear children, until the moment when everything changes. I ask Jesus so much for this transformation, because I know that if the world continues as it is going each day more towards the abyss, very few will be saved, because today people are easily condemning themselves by the world of pleasure, the world of greed, the world of lust, no one speaks of spiritual life, spiritual things, God's grace, God's love, life of Holiness, life of forgiveness, and poverty and what humanity is living.
And the only request I make you children, is prayer. Prayer, silence and change of life. You must prepare, because much worse things will come to humanity, especially from now on, and the preparation you need to have is without a doubt, prayer, the Eucharist, forgiveness, silence and above all, love.
Before concluding, I would like to ask you this month to pray a lot for the Holy Father, Pope Francis. He is somewhat weakened by the difficulties of illnesses and threats he has been receiving.
In this message of mine, My children, I leave you once again My appeal. Convert, convert, convert, as soon as possible and quickly. Children, its serious the time you live, there is a lot of sin in your world. It is sad for Me to know that you are on the brink of a very serious disaster if you do not abandon these sins. My children, its not that God is not Merciful, for He is being very good, despite so many serious sins that He receives from all mankind. May this message touch the hearts of My children around the world.
I bless My Portuguese Children and those around the world. I give you My strength and My blessing, may God the Father, the Son and the Holy Spirit bless you and keep you. Amen
Mary, Mother of Goodness
(Publication revised by Brother Fernando Pires) 
---
Prayer, Month of September (05-09-2021)
O beloved Archangel Saint Raphael, medicine of God, accompany me on all my paths. Protect me from the emissaries of evil and guide me on the right path.
Send me the medicine I need for my cure.
May your company, blessed Saint Raphael, always remain by my side, and, together with Saint Michael and Saint Gabriel, defend me from the enemy of my soul, who prowls around like a furious lion, looking for someone to devour.
Do not allow me to stray from God and show me the way that will lead me safely with my family to the gates of the Heavenly Jerusalem.
Dear Archangels Michael, Rafael and Gabriel!
May the circle of Light and Protection that emanates from You, cover me, my family, my friends and all of humanity.
I ask you this in the Name of the Holy Trinity and for the Glory of God.
Amen.
---
---
---
---
PREVIOUS MESSAGES
Use the side menu for messages in "PREVIOUS YEARS"
---
---
Dear friends pilgrims  and benefactors.
We inform you that our IBAN (bank details) will soon be presented so that you can make your donations, so that we can move forward with this work of Our Lady Mother of Goodness, according to the designs of God.
The challenges that lie ahead are significant, but we believe that your hearts and generosity will be touched and guided by the Hearts of Jesus, Mary and Joseph, so that this work of God with your help can move forward with the necessary actions and interventions in the necessary lands and infrastructures, for the evolution of the Sanctuary Corgo da Igreja, Sanctuary of Light for the world, a Sanctuary of Light for the people of God.
"(…) My children, you must never despair. Nothing can stand in the way of what belongs to God! Never forget that! What is of God has a much greater strength than the trap the enemy wants to set to bring down those children who pray, those who walk who evangelize. (…) "
(Our Lady, Mother of Goodness, in 2020-12-06)
---
---
DECEASED
Father MANUEL VIEIRA
(05-05-1922 to 05-07-2020) (98 years)

We inform all the Pilgrims, friends of Our Lady Mother of Goodness, that Fr. Padre Manuel Vieira passed away on the dawn of the 1st SUNDAY of JULY (05-07-2020), at the Hospital São Bernardo in Setubal, Portugal.
---
---
---
---
Explanatory note:
This apparition is supported by the decree of the Congregation for the Propagation of the Faith (AAS 58/16 of 29 December 1966, which defends canons 1399 and 2318, thanks to the intervention and approved by SS Paul VI and published by his will where it says: "It is authorized to disclose, even without express permission of the ecclesiastical authority, writings concerning new apparitions, revelations, visions, prophecies and miracles, counting on observing Christian morality in general."