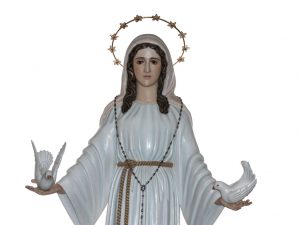 Message from the month of JUNE
---
WARNING : The messages are textually copied from the manuscripts of Brother Fernando Pires. Good discernment.
---
See photos in: "FOTOGALERIA"
---
WARNING
Once again the apparition in the site CORGO da IGREJA (S. Marcos da Serra)
(starts at 12:00)
(…) My children, from October you already can come to My Sanctuaries in Cova da Iria, Fátima and Corgo da Igreja, here in São Marcos da Serra, but with great moderation and also complying with the health authorities in your area. (…)

(6 of September 2020)
---
---
Message from the 6th of June 2021
(From St Michael the Archangel)
Brothers and sisters, may the peace of God the Most High be with you.
I, Michael, Prince of My Father's armies, promise you that I will be a friend and intercessor in this life and in the arrival at eternity, of all those who pray the Holy Rosary. I will not allow any of My brothers to be lost, and will do the same to their families.
Therefore, do not fear brothers, we are always available to serve you, to protect you and support you from all harm and danger.
Brothers, My Father has granted Me the honour of preserving His faithful flock from all harm, that is why you must not fear, but trust, pray and ask My Father to have mercy on this humanity, so ungrateful, so sinful and so forgetful of the wonders and goodness of God.
Brothers, you do not know how much it hurt Us to see so many souls who, at this moment, in your time, are getting lost. But We, the Archangels and Angels, cannot help them. Do you know why brothers? Because they turned their backs on the God of life while they had life here on earth!
How much sorrow afflicts Heaven! What pain My Father feels, seeing so many souls being lost! Brothers, I ask you, that when you make your prayers, include the sinful souls. Brothers, may the peace of God the Most High accompany you.
We are your friends and advisers, Archangel Michael, the Archangels and the Angels of the Kingdom of My Father: Amen
Michael Archangel
 
Message from Our Heavenly Mother
My dear children, it is a joy to be in the beautiful presence of the Sacred Heart of Jesus, especially in this month of June, of devotion to that Holy Heart. Jesus loves us and welcomes all our needs! May it be spiritual, temporal or material! The great quest of humanity across the face of the earth is for justice.
People are tired of seeing the suffering caused by greed and dishonesty, especially your country that cries out for the Mercy of the Lord. May The Lord wrap Portugal with His Sacred Mantle so that this country may reach the beautiful mystery of peace! The Sacred Heart of Jesus will always shower many blessings on this country and on all nations in need of love and justice. My children, this will have the purpose of awakening people to the spiritual growth. The world will only be, in fact, happy when humanity wakes up to God!
This is a strong warning My children, because awakening to God is not for anyone, but for the heart that thirsts and hungers for God.
So My little children, it is the Heart of Jesus that the world needs so much. The world needs this Holy, Blessed and Sacrament of the Heart, so that all the needs of all creature can be restored and Sanctified.
All needs resume down to this: People need a lot of God! Only from God, solely of God! Little children, upon hearing these words, we have a clear sense of the distance that separates the world from God!
Therefore, each one of you must praise God and feed your soul with the greatest Word in the world: The Word of the Lord! The presence of God is, in fact, manifest within us. The Saints who proclaimed the presence of Jesus Christ in their souls said: Christ lives in me, so I am happy.
People's turning away from the things of God causes the world to shed tears and be in hard suffering. There is no greater suffering than that of the heart that has no peace.
Children, when you have peace, you have everything in life! Food has flavour, the family is happy, work has roots and bears fruit! This happens when you have God, but when you lack God, the food has no flavour, your family is worthless, and your work is meaningless.
That is why, children, humanity lives so lost in the face of arduous spiritual suffering. People put everything into life, but they forget the essence of life: God!
My children, Jesus makes a great appeal of faith and good will to us, He appeals to the courage of the missionary, to speak and witness about the Kingdom of God. This Kingdom is also present on earth today, because Jesus Christ is the way, the truth and the life among us. It is this path, this truth and this life that will lead us, in fact, to the salvation of our souls.
Whoever truly opens his heart to the Service of the Gospel, grows, because he learns that Christ builds in us the pillars of His teaching.
My children, a beautiful example is when you dedicate yourself in doing something for the needy: the sick, the needy children, the people in need of affection and words of comfort. Jesus makes of you an instrument.
That is why My children, I call you to the path of forgiveness and obedience, to follow in the footsteps of Jesus Christ, dive into this most Merciful ocean, and, in the entrails of that Merciful Heart ask God for forgiveness.
My dear little children, help Me to save your world! Consecrate your lives, your hearts, your families and your faith to Me. Consecrate to Me the most sinful nations, so that they may be converted.
Do not be discouraged by the difficulties of the world! Do not give up, My children, in the face of the evil and injustice of the world. So far this epidemic remains uncured, killing thousands of My poor children. If the world were not so evil and perverse, I would certainly tell you in detail how to cure this epidemic. There is no human healing…only God can heal! But, as they neither seek God nor salvation, I cannot reveal anything to them, the Lord continues to allow this epidemic, a just punishment for those who sin the most.
Pray, pray, pray a lot My Holy Rosary, it will be able to destroy the temptations of sin.
The devil wants to cause a great division in the world! God wants the unity of peoples, He wants unity and brotherhood.
My children today I invite you to open your hearts to the will of God. Remain united to My Heart, obeying the calls of My Son Jesus Christ.
Humanity is on the brink of a catastrophe, and My adversary acts night and day to drag a multitudes of souls into the abyss. One of his greatest desires is exactly to exterminate all the children. Terrorism is and will be one of the worst weapons My adversary will continue to use to annihilate and harm millions and millions of innocent lives in this world.
My children, Jesus Christ is warning us: let's be very careful! Take care of your homes, of your families, because they can be contaminated by something worse than this epidemic.
My children, our hope is the Lord Jesus Christ! The One who created Heaven and earth; He who made us in His image and likeness; The One who gave us salvation; The One who is Our Saviour; He who is our Resurrection and the Source of Mercy that flows into the world, in which lives in tears of pain.
My children, on this Sunday, day of the Lord, I want to surrender the world to the Sacred Heart of Jesus, all the families that are going through suffering, through loss, I ask that Jesus Christ console them, comfort them and give them all the necessary strength. I also want to surrender all the sick, sick in body, soul and heart, so that Jesus can heal them and give them life, life in abundance, life in full.
Therefore, children, gather together in prayer for the Churches of the Orient and the Occident, for your prayers will make a great difference, and the goodness of the Lord will be manifested in your hearts.
Before I finish My children, you know how the world is, there will be a shortage of food, many children will feel threatened by hunger, hatred and violence .
Pray, pray, pray a lot, this is what I ask of you so that there is not too much hunger.
I love you little children, so I warn you.
I bless you, in the Name of the Father, the Son and the Holy Spirit. amen
Mary, Mother of Goodness
(Publication reviewed by Brother Fernando Pires)
---
Prayer for the month of June (06-06-2021)
My beloved Jesus Christ, come to heal the wounds present in my heart and in the hearts of all your children, my brothers. I ask you to come and pour hope on this world in distress and despair. This world in which man is no longer able to seek the solution of his problems in the Word of God, because there is lack of prayer, lack of surrender, lack of trust and lack of giving oneself entirely to God! In His infinite love as a Father, God gives Himself completely to all of us and gives us the happiness of living together with Heaven, listening to His Holy Word; teach me Jesus, to place You in my heart, to dive into the ocean of Your beautiful grace, to overcome sacrifice and make me worthy to be holy.
God is for us, praise Him! Amen
 (Publication reviewed by Brother Fernando Pires)
---
---
---
---
PREVIOUS MESSAGES
Use the side menu for messages in "PREVIOUS YEARS"
---
---
Dear friends pilgrims  and benefactors.
We inform you that our IBAN (bank details) will soon be presented so that you can make your donations, so that we can move forward with this work of Our Lady Mother of Goodness, according to the designs of God.
The challenges that lie ahead are significant, but we believe that your hearts and generosity will be touched and guided by the Hearts of Jesus, Mary and Joseph, so that this work of God with your help can move forward with the necessary actions and interventions in the necessary lands and infrastructures, for the evolution of the Sanctuary Corgo da Igreja, Sanctuary of Light for the world, a Sanctuary of Light for the people of God.
"(…) My children, you must never despair. Nothing can stand in the way of what belongs to God! Never forget that! What is of God has a much greater strength than the trap the enemy wants to set to bring down those children who pray, those who walk who evangelize. (…) "
(Our Lady, Mother of Goodness, in 2020-12-06)
---
---
DECEASED
Father MANUEL VIEIRA
(05-05-1922 to 05-07-2020) (98 years)

We inform all the Pilgrims, friends of Our Lady Mother of Goodness, that Fr. Padre Manuel Vieira passed away on the dawn of the 1st SUNDAY of JULY (05-07-2020), at the Hospital São Bernardo in Setubal, Portugal.
---
---
---
---
Explanatory note:
This apparition is supported by the decree of the Congregation for the Propagation of the Faith (AAS 58/16 of 29 December 1966, which defends canons 1399 and 2318, thanks to the intervention and approved by SS Paul VI and published by his will where it says: "It is authorized to disclose, even without express permission of the ecclesiastical authority, writings concerning new apparitions, revelations, visions, prophecies and miracles, counting on observing Christian morality in general."