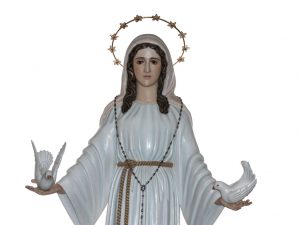 YEAR 1998

Messages of each month from this year.

---
WARNING : The messages are textually copied from the manuscripts of Brother Fernando Pires. Good discernment.
---
Message of Our Lady Mother of Goodness
Revealed to Brother Fernando Pires, on , , at the place of the apparitions (Corgo da Igreja).
---
---
Year in which everything began to be manifested and revealed by God.
In this year 1998, which preceded the year (1999) of the first apparition in the place Corgo da Igreija, north of S. Marcos Da Serra, was the year in which the seer, Brother Fernando Pires, received great graces and signs of Divine manifestations in his body.
Many of these manifestations served as testimony to all the people who since then began to accompany and assist him, led by the faith that moved them with trust in God and His wonders, and far from imagining the great work for which God called.
"… MESSAGE IS MISSING …"
For reasons of greater force, the missing message (revelation) in 1998 will be delayed for a little before it is presented on the site.
In the early days of the apparitions, the messages handwritten by the seer, Brother Fernando Pires, were entrusted to certain persons who accompanied him and assisted him in their subsequent disclosure, and now are inaccessible for various reasons.
Whoever has a copy of these missing messages, please send them to Brother Fernando Pires, or send them to the email that is on the " Contacts " page.
at http://maedabondade.org/localizacao-contactos/
Events that also marked the path of Brother Fernando Pires
Still in 1998, one of the images "pilgrim image" (image offered to Brazil) wept true tears, as the photos testify and the various people who witnessed as well.
Image of Our Lady crying true tears
Our Lady crying true tears
Photos of the image of our Lady of Fatima crying in the house of Brother Fernando Pires. This image was offered to the church of Cajueiro in Brazil, where it is today.
---
---
Explanatory note:
This apparition is supported by the decree of the Congregation for the Propagation of the Faith (AAS 58/16 of December 29, 1966, which defends canons 1399 and 2318, thanks to the intervention and approved by SS Paul VI and published by his will where it says: " It is authorized to disclose, without express permission of ecclesiastical authority, writings concerning new apparitions, revelations, visions, prophecies and miracles , provided that Christian morality is observed in general." In publishing revelations, apparitions, or any other graces of Jesus and of Mary, as well as of His Angels and Saints, this group of friends of Our Lady Mother of Goodness, in this way give the opportunity to all those who wish to know and be informed, of such wonderful manifestations of heaven, on earth, according to freedom and free will of each person.